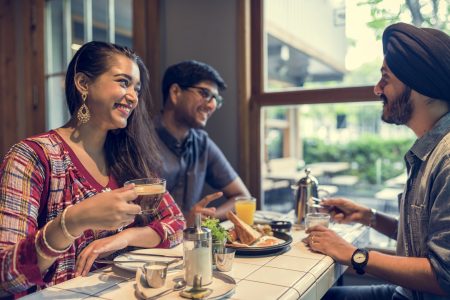 These days, small restaurant chains across the country look for new business strategies since many big restaurants are opening on a daily basis and small guys need to compete against these big brands. This guide will discuss how technology, digital lending platforms for acquiring a small business loan and modern marketing tactics help small businesses sustain in this highly competitive era.
Tips For Small Restaurant Chains Competing Against Big Restaurants
1. Connecting With Clients Through Digital Ordering
Connecting with consumers is the basic success element of small eateries. Nowadays customers connect continuously and they expect small businesses to provide online access through mobile devices. Since maximum customers claim to place an order through a mobile app, restaurants having online ordering access can take benefits of huge selling and increase profits. Since these tools help order online accurately and provide convenience for the customers in order, small guys can boost client satisfaction and increase order frequency.
2. Think About Marketing Strategies
Sometimes, big restaurant owners face issues to fit marketing into their regular schedules. Well, they can make a big impact on sales by improving client retention and frequency. Undoubtedly, a little improvement in client retention rates can increase the whole profits. Being a small restaurant owner, you can apply client rewards and loyalty program to deal with your marketing efforts and create connections with your promising clients through tailored marketing messages. Text message and email loyalty programs offer a budget-friendly solution to the restaurants for tailored marketing materials and a capacity of tracking client response rates and offer redemption.
Also Read: Struggling With The Mounting Expenses Of Your Hotel? Use Business Loans To Your Rescue
3. Control Food Costs For Managing Entire Expenses
Since food costs increase, chain competitors continuously reduce rates, which help control food expenses a big concern area for eateries. There are just a few restaurants daily count their stock and track variances. With technology for tracking variances from perfect use, detect issues, analysis utilization and measure product profitability, the average restaurant can save more yearly. To deal with labour expenses, restaurants can eliminate costs. With the use of a POS (Point-of-Sale) system with a precise predicting tool, small businesses can schedule employees relevantly to fit a sensible budget. In-built tools for enabling schedules and sending alerts regarding overtime help managers keep important labour expenses within budget and ease admin tasks also. If you have insufficient business finances to purchase a POS machine for your restaurant, contact Indifi for borrowing a Merchant Cash Advance Loan.
Also Read: 5 Common Challenges Faced By Indian Restaurateurs And Smart Ways To Overcome Them
4. Utilize In-Store Technology To Concentrate On Strategy
These days, restaurant owners opt for POS (Point-Of-Sale) systems which are more efficient at helping them control expenses. With the use of this system, you can get a low-cost option for your small restaurant business. This simple solution eases ordering with a communicative approach to take the order and a system for dealing with client data. Strong tools like delivery tracking, stock management, and terms-based discounts help restaurant owners drive more efficiencies and maintain complete control over regular business operations. Not just do they have more control than before they can also be connected with their business while away with mobile alerts, detailed reporting, and client tracking.
Also Read: AI – The Next Big Game Changer In The Hospitality Industry
5. Deal With Client Feedback
This is a vital area of concern for small restaurant chains in dealing with client feedback. With rising numbers of clients seeking businesses and posting online reviews, connecting with them and fixing issues is essential. Client feedback is vital so restaurant owners should utilize it to their benefit. A wise tactic to deal with client feedback engages detecting client transactions and inviting clients to give feedback through an internal survey system. Fast response to complaints and positive comments also create connections with clients and help them return, even after a poor experience. This tactic helps eateries detect brand supporters and invite them for reviewing and sharing their experience with people.
Also Read: 5 Smart Strategies To Increase Your Hotel Bookings & Boost Revenue
It's Time To Bring Technology To The Table!
Now nearly everybody uses smartphones to search for something. Hence, maximum customers want to read an online menu, research locations or see reviews online before visiting a restaurant. Thereby, small restaurants also should have an updated website. Consider taking mobile payments and make an online platform for your promising consumers.
Apply Here To Get Restaurant Business Loan
Since client service is of major importance, independent MSMEs should make strategic decisions for gaining a reputation. Promote your business online and ensure to keep up with the local competition. Make a little investment to decorate your eatery, update your menu and increase your capacity by taking out a small business loan from Indifi. Indifi works with many restaurants that need to borrow funds to improve their profit earnings. So, just go for it!