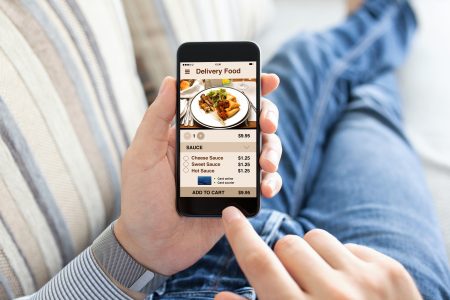 In this digital era, maximum restaurants are utilizing food delivery apps for streamlining solutions and adding more values. Thanks to mobile apps, customers can now interact with foods a better way. In this blog, we will delve into the rapidly changing economics of the restaurant industry with an association of food delivery apps and how borrowing a business loan can help small restaurant businesses develop more. Let's have a look!
Also Read: Many Benefits Of Online Food Delivery Flatforms For Restaurateurs
Perks Of Food Delivery Apps For Restaurants
The restaurant industry and food delivery apps are the match formed in heaven. While other industries can get advantages from mobile integration, a few are as good of a fit as eateries. Whether consumers are ordering from home or are traveling, all they require from maximum restaurants can presently be managed within an application.
This is a massive advantage for restaurants. They can make bookings in a flash for the outgoing person while an individual who would instead live in a house can either have his food delivered directly to him or can make a to-go order in seconds. In every way, both the consumers and the restaurants win.
What Is The Changing Scenario Of The Restaurant Industry?
Since more restaurants in the industry are gaining popularity, the apps' variety for restaurants has constantly developed. Presently, there are many applications for every stage of the procedure of restaurant service. Let's have a look at the following to understand how food delivery apps are responsible for changing the scenario of the restaurant business:
1. Discounts
This is a trend which has made food delivery apps really popular alongside some restaurants offering them. Discounted deals make it simpler for customers to order foods from specific restaurants on a budget. These applications work with restaurants for bringing in new business by providing discounts on food items in the establishment.
Small businesses have found it really good in offering discount deals initially to make their restaurants popular in the industry. All they need is to take out some business funds to go ahead.
Also Read: How Restaurants Can Deal With The Menu Price Tightrope
2. Food On-Demand
Food delivery apps are on-demand since many customers either don't like to cook at home themselves or don't have time for cooking. While these services cause fewer consumers in the physical eatery location, the simple online ordering process makes up the distinction in extra orders.
This change has encouraged some less tech-savvy restaurant owners to list their restaurants on these apps. The restaurant owners who hope to get more customers and popularity, food delivery apps are the best way to get their names out. These apps do not just increase new visitors but also enhance brand recognition.
3. Reviews
Customer reviews have made a great impact on the way customers interact with restaurants. Not just have these reviews made client service a focus for numerous restaurants but also these have had the impact of bringing many restaurant owners into the digital world. Since reviews have become famous, restaurant owners have had to make a move towards making their online presence. It's no more sufficient to just serve good food if you want to develop your business. These days, it's essential to embrace new technologies and reviews which consumers expect you to work with.
Also Read: 5 Techniques To Cut Down Costs At Your Restaurant Without Compromising On Quality
4. Individual Restaurant's Food Delivery Apps
Individual restaurant delivery apps are the ultimate area to analyze. There are some restaurants which have built their own apps for food delivery. This is quite hard for small businesses, considering the initial setup expenses and maintaining the mobile app for keeping everything updated, but some branded restaurants have showcased, it can be highly valuable.
Having an individual app is an excellent tool for a restaurant for total control of the procedure and offering smooth integration. This lowers consumer churn rates and boosts retention. So, for some restaurants, developing their own app can be a game-changer for their businesses.
Final Say
So, we can see that the restaurant industry has experienced a massive transformation with the widespread use of food delivery apps which has increased the food selling process. If you have an entrepreneurial spirit and are looking for starting your restaurant business but have a lack of business finances, start your next project by taking out a small business loan from Indifi.