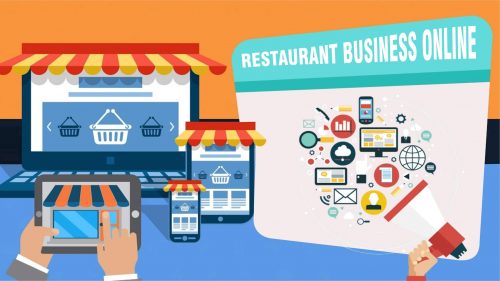 For anyone with a love for food, opening a restaurant and sharing the best tastes with others is a great choice. But apart from the passion, one also needs the right marketing approach to draw business. Unless you can attract the right level of attention and engage with the customers, the business has less chance of success. To survive the tough competition, the business should stick to the specific niche and the target range of customers to get the best results. For this, the right level of promotion through online means is fundamental, along with the right strategy.
Also Read: Best Mobile Apps To Manage Trade And Payments For Restaurants
Promoting the restaurant business online
Here are a few effective ways to promote the restaurant online.
Creating a website
An eye-catching website is the first thing that is needed to build your brand and attract the customer's attraction. It should be in an easy-to-navigate format that will have an elegant and glossy look that matches the theme of the business. The menus can be shared on the website, along with the points that make the restaurant special. The "about" section should provide the necessary information including location, timings and contact. There should also be sections related to online orders, newsletters, reservations, rewards and offers.
Email marketing incentives
You can allow customers to sign-up for your newsletter on the website. This can help you build a database. Those who have already shown interest in your restaurant will be happy to receive special offers or coupon codes through emails. This will provide them with the right incentive for a visit. Special offers and discounts for an initial sign-up can also help in increasing the number of digital followers.
Also Read: How To Manage Food Delivery Without Online Food Aggregators
Social media marketing
No business can afford to ignore the important role that social media plays in this age. You can use Facebook, Twitter and Instagram pages to spread the word about your business, promote new food items and also generate positive reviews. It is necessary to ensure that you use the best quality photos and videos that can act as a visual attraction for the customers. The timing of the posts should also be right and handling various kinds of feedback should be done in courteously and professionally.
Reach out to local gourmets
Reaching out to the local gourmets and food bloggers who like to explore different varieties of food is an effective way to promote your business on the internet. People who love food and review the same attract quite a substantial number of followers, and you can invite them as guests and offer them discounted meals. In return, they can provide you with an honest review that will help in boosting the online image. This is a great way to use their social media influence to benefit your business.
Also Read: Many Benefits Of Online Food Delivery Flatforms For Restaurateurs
Develop an online ordering app
Contrary to popular belief, developing an online app is not a highly expensive affair even for new local businesses. Moreover, the overall benefits, in the long run, will outweigh the initial investment as the recent statistics have pointed out that a significant segment of any restaurant's business comes from online apps. You can use a variety of delivery services to complement a user-friendly app that will be convenient for your customers.
Update your online presence regularly
Updating the way in which you present yourself on social media to keep things fresh is an important step for any restaurant. You can change your menu at regular intervals, introduce special items, or even bring about a change in the online look by taking the help of a graphic designer. Other options include engaging customers in various contests and games that will allow them to win special discounts and help you to boost your social media presence.
Also Read: Best Ways To Organically Reach Customers For Restaurants
It is always important to generate awareness about your restaurant and highlight your specialities by making the best use of online marketing strategies. From unique food and interior décor to the speciality of your chef, you can promote various aspects of your restaurant. At the same time, it is necessary to take the right strategic steps based on a budget as it is not prudent to overspend at the initial stage of the business. When it comes to starting out a business and promoting it in the right way, Indifi is a leading expert and can help you with strengthening your online presence.
Apply For Small Business Loans For Restaurants