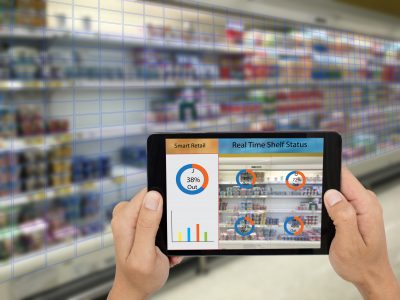 A fast search on your mobile is no more one-way communication. From helping you visit your nearby shop to enabling the retailers to understand the client behavior; AI is making its powerful position in the retail industry. Soon, you won't require remembering what you prefer or what you want to purchase.
From visiting a mall to making a purchase on the eCommerce websites, choices of the millennial are transforming and so are the trends of shopping. While the latest tech trends have been still stable, the most recent trend in the retail industry is AI's presence. From retailers to eCommerce sellers, ample clients are available for AI.
Almost every market sector, business domain, and the industry is highly interested in Artificial Intelligence and is seeking to utilize the technology for their business advantages. AI provides organizations with the strength of lowering expenses and making the buying experience more efficient and satisfactory for promising clients.
The Impact Of AI On Retail Industry
AI can be a blessing for retail firms that collect and own client information. Artificial Intelligence can acquire meaningful bottom lines from a huge amount of info and help organizations to make tailored buying experiences through online chatbots, intelligent in-store bots, and highly structured web stores. Let's have a look at how AI will change the retail consumer experience this year!
How AI Will Change The Retails Consumer Experience
1. Virtual Trial Rooms For Making Rapid Decisions
Trying out various options can be time-consuming and annoying while buying new apparel or dress. Here comes the role of virtual trial rooms which are equipped with online mirrors. Using these trial rooms, clients can easily try dresses without any requirement of changing again and again.
Utilizing a touch-based interface and a gesture, a buyer can combine different shoes, garments, and accessories to decide the ideal look, instantly. Not just for apparel brands, but also virtual mirrors can make it simpler for beauty brands and cosmetic firms for portraying how a foundation or lip shade would look on real skin complexion without forcing clients for applying the item.
2. Digital Racks For Fashion And Apparel Items
Using AI technology, retail fashion brands can make digital racks with touch-free monitors and gesture walls for discovering the exact style, without any requirement of shuffling through a pile. Consumers can immediately see how an outfit would look on them and can search for recommendations depending on their style quotient and choices.
This will not just improve the buying experience but also will help consumers select from lots of options. This is presently impossible because of space limitations inside an offline physical shop. Using AI, a shop can be transformed into an active repository of draping and design concepts which users can select from. Moreover, shops can collect more intense insights into client behavior, optimizing their portfolios for delivering a greater retail experience.
Also Read: Top 3 Trends That Are Changing The Face Of The Retail Industry In India
3. Behavioral Analytics Enabled By AI-Powered Surveillance
With the help of modern surveillance equipment backed by computer vision technologies and AI, retailers are able to capture and measure client behavior inside shops. This helps them understand involvement levels with present shop layout and optimize functions for higher revenues and engagement.
Video analytics are also able to boost in-store security by lessening scopes of theft. Using AI, surveillance footage can be checked in real-timeFfinanc and administrators and shop owners receive the alerts for instant action.
4. Round-The-Clock Robotic Or Digital Support
Utilizing natural language processing technology, smart analytics, and AI, retail shops can provide consumers with the power of receiving immediate assistance, inside the shops. By placing touch panels and robots, shops can help consumers find a product, receive answers to all queries, and discover how an item can make their life seamless.
Using the client service bots enabled by AI, shops can lessen their workforce expenses and offer round-the-clock assistance to the clients. Not just will it boost the levels of client service but also will certainly appeal to more shoppers to the shop this year.
Also Read: How To Maximise Sales In Retail?
5. Enhanced Client Assistance Through Chatbots
AI-enabled chatbots are helping retail brands in effectively engaging consumers. Using chatbots, brands can deal with numerous queries at the same time, without any requirement of hiring large manpower.
Retail companies can configure chatbots for answering queries, offer buying recommendations, and offer instant assistance. Utilize a combination of humans and AI chatbots, brands can efficiently manage consumers and offer users a better solution to their issues. When clients will get customized and instant attention, they will engage more intensely with the brand, making way for improved client loyalty.
Apply For Retail Business Loans
Bottom Lines
All the aforementioned scenarios are not at all a fantasy but will be encountered by retail buyers in the forthcoming years also. AI will help brands, lead the retail domain, and become more efficient and client-centric in retail operations.
There are many high-risk retail businesses, which are looking for working capital loan to survive. In case your retail brand wants to harness the key potential of AI and has a lack of business finances, you should contact an alternative lender like Indifi. Organizations like Indifi have already embraced AI to make all possible ways to offer loans to the retail brands which are at risks.