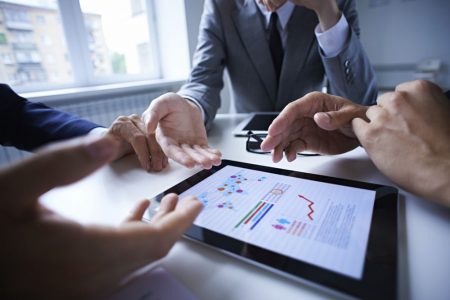 Customer demands play a crucial driving factor in the retail sector. Today's tech-savvy customers want an enhanced shopping experience. 24/7 shopping, quick delivery, an intuitive UI, personalized shopping experience — are some of the top expectations of customers from the retail sector.
According to the survey Digital Trends in Retail by Adobe, nearly 54% of all retailers surveyed responded that customer experience is the primary driving factor for digital transformation. 13% of retailers, though they own a brick-and-mortar store described themselves as "digital-first." And, nearly all retailers were looking to include digital marketing and other digital trends for their business.
Digital Transformation — The Need Of The Hour For Retailers
It's no secret that the retail industry is highly competitive and only by providing your customers with a unique and personalized shopping experience, you can get them to open their wallets. As the numbers and figures show, digital transformation has become an undeniable factor in the retail industry.
Retail businesses have to evolve with the changing needs of the customer. If not, they are likely to become "irrelevant" or "boring," both labels can deal a huge blow to your business.
The key question here is how to hook in and attract the technologically-savvy and highly selective customers of today? How can a retailer stand out from the competition?
Also Read: 5 Smart Ways To Increase Revenue And Grow Your Clothing & Fashion Business
The answer lies in Digital Transformation.
What Is Digital Transformation?
According to the definition by Microsoft, digital transformation is re-imagining your business — the way you collect and evaluate data, and people to create added value to your customers, in a digital-first world.
Today, the world we live in has become a mobile-first, digital world. Retail customers start their shopping journey online. They browse, search, read up about a product before they even step into a physical store.
Digital transformation uses innovative technology to engage and hook in customers (both online and offline) and getting customers to connect with your brand emotionally.
Also Read: Why You Need To Add Multiple Payment Methods To Your Online Store
Guidelines For A Successful Digital Transformation For Retailers
Digital transformation doesn't happen overnight. You need to take stock of your business and make changes from the top to bottom. Here are a few guidelines to help your digital transformation stay on track.
Create A Digital Roadmap :
You need a strategic and cohesive roadmap to help you stay on track. Make a list of all your objectives, and order them according to priority. Make sure that you always refer to this roadmap during the digital transformation of your retail business.
Embrace Innovative Technologies:
Technologies like machine learning, big data, AI are quite helpful in predicting customer preferences. Make use of these technologies to know your customers better, and to serve them better.
Also Read: Is Your Business Ready For Diwali Rush?
Adopt A Mobile-First Strategy:
Almost all customers today use a smartphone. Having a mobile-first strategy will help you provide enhanced customer experiences like — mobile payments, personalized offers, self-checkout, enhanced product knowledge and more. When choosing a mobile strategy, make sure to include all customers by making your mobile app available on all popular platforms like iOS, Android, and Windows.
Also Read: https://blog.indifi.com/best-digital-item-ecommerce-business/
Create Complementing Online And Offline Strategies
Successful retailers know that you need to increase store footfall to boost revenues. Your digital transformation should complement your physical store sales. Collecting online purchases in-store, free customized tailoring at the store, a store locator — are some way to bring digital customers into your stores.
Apply Business Loan For Retail Store
Don't Lose Steam Midway
Digital Transformation is time-taking and involves plenty of changes to your business model. Make sure that your digital transformation is not abandoned halfway due to a lack of funds.
If you are unable to allot funds from your working capital to power digital transformation of your retail business, then you can consider an easy-to-avail, unsecured business loan for retailers. Digital lending platforms like Indifi offer working capital loans for retailers to carry out digital transformation in the right way, without any compromises.
Retail Digital Transformation — No Longer A Choice, But Mandatory
Digital transformation is an intensive process. It requires the full commitment of the entire team, management, and board. With that said businesses that go forward without digital transformation run the risk of losing to their technologically superior competitors. Simply put, businesses that embrace digital technology are winning and winning big. Are you ready to get started?