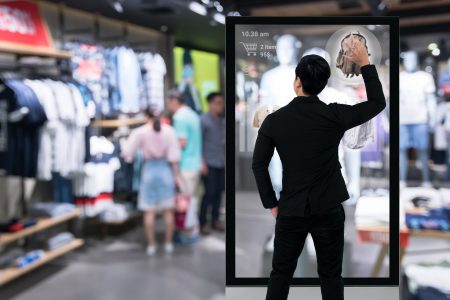 The retail industry has reaped the maximum benefits of digital disruption in India. As per the latest report, the retail store will experience a healthy development after stepping into the quickly developing eCommerce market. These days, people from both urban and rural India are using smartphones, enjoying exciting discounts from an online purchase, the convenience of doorstep delivery, huge flexibility in online payment modes, and terms of returns and exchanges.
Also Read: Time To Grow Your E-commerce Business With Smart Syncing Technology!
The present trends don't exclude conventional retail shops. Even, the present consensus is that in spite of the high-flown development of eCommerce, 2019 or the consecutive decade won't experience diminishing of the physical stores. Rather, these stores can grow simultaneously with the help of digital lenders by borrowing sufficient amount of small business loans, being an expansion of different eCommerce value propositions, like an online return or pick up facility at the shop, shop location, bookings, and services, etc.
Let's discuss how the cooperative relationship between retail and eCommerce shops will grow in the near future, with the help of technology!
How Technology Will Help Flourish The Relationship Between Retail And eCommerce Shops
1. Online Booking Offers A More Satisfying Experience
The growing endeavor of middle class implies that different utility and recreational services will now be common. Customers can book services like hair treatment, massage, and beauty therapy online before they go to the outlet. While customers can save time and effort, retailers with their own shops can strategize their resources in advance and offer a great experience. Also, they can create a worthy client database which helps them drive tailored offers and offers clients new purposes to be back. This helps clients have an experimental self-care shop tour.
2. Online Marketplace Encourages Small Retail Businesses
Different large online hubs encourage small retail businesses which don't have the capacity of investing in online infrastructure, going digital and delving into a larger client base. This is done by offering plug-and-play APIs, low-code, which is utilized in alliance with a properly organized shop. The online marketplace also empowers these shops to promote their digital presence on conventional and social platforms, push notifications on mobile devices, and in different other creative ways. This outcome is a winning situation for both parties.
Also Read: 5 Ways In Which Technology Can Help You Transform Your Restaurant Business
3. Maximizes Customer Loyalty Programs
Customer loyalty programs are no longer restricted to online buying. Rather, retail shops in India are venturing big on such programs for making a loyal client base. For making these loyalty programs more effective and flexible, these shops can team up with a specialized organization which helps clients redeem their rewards for relishing more precious shopping. In a nutshell, one purchase causes the other.
4. Power Of Influencer Marketing
No brand wants to overlook the influencer marketing conveyance to maximize its presence. Already different Indian retail businesses are reaping the advantage of the strength of an endorsement from the right YouTuber or an Instagram celebrity for driving digital conversions. Nevertheless, as compared to fashion and different other industries, retail businesses are still under-utilizing the strength which influencers have with their followers face-to-face. Going ahead, you can anticipate the trend to choose to play a vital role in the retail sector.
Also Read: Top 7 Tech Trends Transforming The Travel Industry
5. Use Of Digital Tools Like POS Systems To Boost Customers' Store Experience
Technologies like Artificial Intelligence, 3D simulation, Virtual Reality, Digital Kiosks, and POS systems are helping in-store visitors with simple discovery and experience of products. They can see how all products function, where they are located, what the prices are, and available variations. In addition to this, customers can relish exclusive ways distributed by the marketers and may visit the shop simply for experiencing it. From these activities, the conversations and engagement have a straight interaction with future shop impression and revenue.
Also Read: 5 Techniques To Cut Down Costs At Your Restaurant Without Compromising On Quality
Final Words
The aforementioned list is not limited and there will be several other ways technology empowers the development of the retail sector. The development of this industry will unlock different exciting scopes. And to make the maximum of this, retail businesses require finding the best way to bridge the gap between online and offline distributions. This is why some retailers opt for Merchant Cash Advance loan from Indifi to buy POS machines so they can improve the in-store experience of their customers. Those who opt for this bold and innovative way, can have a head start in the eCommerce age.