People are preferring to buy online in this new era of digital India. And it is very beneficial for both the seller and the buyer. In a country with over a billion buyers, sellers have a variety of buyers to sell their products to. Also, we live in a country that is rich in culture. Thus, we get to celebrate many festivals.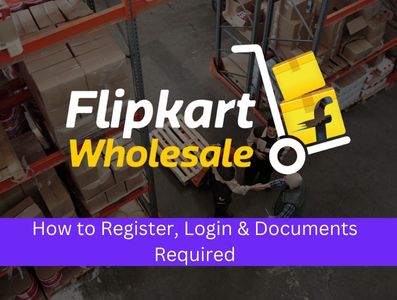 Festivals themselves open up a big market. So, if you're also thinking of tying up with Flipkart and taking advantage of the festive season, then continue reading this article. Because in this article we will tell you how you can also become a Flipkart Wholesale Seller. In this article, you will get to know the entire process of becoming a seller on Flipkart and how to avail Flipkart seller loan from. 
Why Buy From Flipkart In The Wholesale Program?
As we all know, Flipkart Marketplace is India's leading online selling platform. Now, with its B2B sales, Flipkart is enriching small and big vendors. There are options to choose from a variety of products to buy in bulk. Unlike other big vendors, Flipkart offers its products at a reasonable price. So, as a vendor, you can buy at a cheap price and sell it to your customer at an affordable rate. Hence, creating a good reputation amongst your customers. Moreover, registering yourself on Flipkart Wholesale is simple and free. 
Also read – Best Ways To Be Visible On Flipkart 
Benefits Of Choosing Flipkart As A Seller'S Market
Earn more while saving more
Flipkart's B2B model enriches vendors with a low margin on stocks. In this way, you can order a lot at the minimum price possible and sell it to your customers at your preferred price.
When you become a seller and place an order on Flipkart under the B2B program, you get quick deliveries. Time is everything and fast delivery ensures smooth business operations.
Flipkart offers a credit duration of up to 15 days. Thus, you can buy your goods on credit and still have the time of 15 days to repay the amount.
With years of being in the business, Flipkart now has data on area-wise customer demands. This can benefit you too. With smart data, you can be sure about the type of products people are purchasing around your area. Also, you can keep the stocks in advance depending on the nature of your business during any particular time of the year.
You can submit a request to return your items and have them picked up from your doorstep with a simple return policy. Return positioning is no more an issue.
Get the finest margins on a variety of items across several fashion categories. Such as
Women's Apparel
Men's wear
Kids' wear
Footwear
With the inexpensive costs, you may expand your business and increase revenues.
Must Read – Flipkart Dashboard Simplifies Data Organization
What Are The Categories Under Which You Can Buy Products On Flipkart Wholesale?
Grocery
From day-to-day grocery items to personal care items, you can choose from a list of products to buy. The list includes:
| | |
| --- | --- |
| Particulars | Items |
| Staples | Rice, Pulses, Flour, Salt, Sugar, Spices |
| Beverages | Coffee, Cold Drinks, Health Drinks, Juices, Tea |
| Snacks | Biscuits, Chips, Cereals, Jams, Noodles |
| Hygiene | Antiseptics, Hand Wash, Hand Sanitizer, Soaps |
| Laundry | Detergents, Fabric Softeners, Surface Cleaners |
| Fashion Store | Fashionable items |
From children's dresses and ethnic Kurtis for ladies to shirts for men of all ages, the wholesale clothes fashion inventory has everything you need to keep your clients pleased. Here is a glimpse at what is available.
| | |
| --- | --- |
| Men's Wear | Women's Western wear |
| Women's Ethnic Wear | Kids' Wear |
| Footwear: For Men & Women | Men's Sports Items |
How To Register On Flipkart To Buy Products In Wholesale?
To register for B2B services on Flipkart, a person or business must first sign up on Flipkart Wholesale platform. The process is simple and you can register yourself from the Flipkart Seller homepage. You can join Flipkart Wholesale Seller by giving details about the store and the products you wish to sell locally.
You need to provide the following information and verify it during the Flipkart Seller registration process:
Name
Email address
Phone number
Business address
Product types that you wish to sell on Flipkart
Tax registration documents
Also, with the basic details, you need the following business-related details and documents during the registration process.
Proof of Identity (Either of the listed documents)
Passport
PAN Card
Voters ID
Driving License
Any other photo identity card
Address Proof (Either of the listed documents)
Telephone bill
Electricity bill
Letter from Employer
Ration card
Lease or license agreement
Letter from a recognized Public Authority or Public Servant verifying identity.
How To Register For Flipkart Wholesale Through The Mobile App?
As we all now carry a smartphone with us all the time. It even becomes easier to register on Flipkart wholesale. A step-by-step guide to registering through your mobile phone:
First, download Flipkart Wholesale app.
Second, enter your mobile number and verify it with OTP
Third, enter your name and select your primary category
Fourth, add business details and upload valid business proof
Fifth, enter the shop name and address
Last but not least, upload images of your shop
The Flipkart staff will examine and validate your information once you've gone through all of these steps and will onboard you as a wholesale seller.
After that, you can start placing orders on Flipkart wholesale. It is easy, fast, and time-saving.