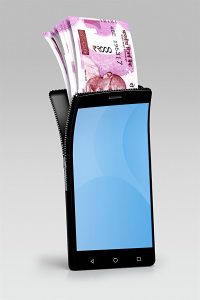 Bill Gates once said, "Digital technology provides a low-cost way for people in developing countries to send money to each other, buy and sell goods, borrow and save as long as the financial-regulation environment is supportive"
This statement applies to a nation like India, where a large chunk of the population still doesn't have a bank account.
According to a recent Assocham report, more than 19% of Indians don't have access to banks.
This is where the role of FinTech companies in India becomes highly crucial.
What Are The FinTech Companies?
These are digital firms who leverage the benefits and potentials of technology and the internet to provide users with conventional financial services suited to today's digital era.
In the past couple of years, several hundreds of FinTech companies have mushroomed all across the country, bringing much-needed innovation to the conservative financial sector of India.
A recent study by NASSCOM in association with KPMG India predicts that the FinTech industry in India would surpass $2.4 billion by 2020, which is double the current size of the market, $1.2 billion.
The primary aim of these emerging FinTech companies is financial inclusion. This means to bring the unbanked population of India into the formal financial services industry and to ensure that financial services are provided unanimously to all users, without any pre-existing prejudices.
Though the FinTech space in India is still at nascent stages, it has come a long way since 2015.
A push to digital India and a cashless economy by the government of India has worked in the favor of FinTech companies.
The GoI's enthusiastic promotion of internet banking, digital wallets, UPI, eKYC, BHIM, Aadhar, mobile-driven PoS all have helped in disrupting the conventional financial structure paving the path for fintech companies.
The Big Names In The Indian FinTech Space
Currently, India has over 462 million internet users and the number is predicted to reach 730 million by the year 2020.
Increased internet penetration coupled with the availability of cheap and affordable smartphones, has helped in bringing about this demographic shift.
E-Wallets
Another critical factor that helped in the explosive rise in popularity of FinTech companies in India is undoubtedly demonetization. Post this move, more and more customers have shifted from using currency notes to digital transactions. This has led to an increase in popularity and the emergence of a large number of digital wallets. Some of the most used digital wallets in India include PayTM, FreeCharge, MobiKwik, PayU and many more.
Also Read: How FinTech Is Changing Lives In The Global South
Auxiliary FinTech Companies
Demonetization didn't just help in digital wallet companies increase their user base, but it also helped other auxiliary FinTech companies. For instance, Ezetap, a Bengaluru-based mPoS (Mobile Point of Sale) solution provider, a company that makes PoS devices that help merchants receive payments from customers witnessed around 25% increase in transactions, post demonetization.
FinTech companies like Instamojo, BillDesk and other mobile-based PoS providers like Mswipe have helped in bridging the gap between small merchants and the end customers.
Big Boys Club
Apart from homegrown digital wallets, the industry is also dominated by big players like Google Pay (TeZ), Amazon Pay, PayPal and more.
Online Insurance and Loans
Additionally, several FinTech companies have emerged in other sectors like insurance and loans. For instance, BankBazaar, PolicyBazaar, IFMR Holdings are the top dominant players in this industry.
Digital Lending
Today, thanks to FinTech, banks are no longer the primary choice for borrowers. Several FinTech companies provide the common man with alternative lending choices for both consumer and business loans.
In this domain, companies like Indifi, Capital Float, FlexiLoans, ZestMoney, Faircent, LendingKart, Rubique, and several others took center stage and are reaching out to a vast number of borrowers across the country.
Apply Loans For FinTech Companies
FinTech is here to stay. The time when FinTech companies become mainstream and the primary provider of financial services is not far away.