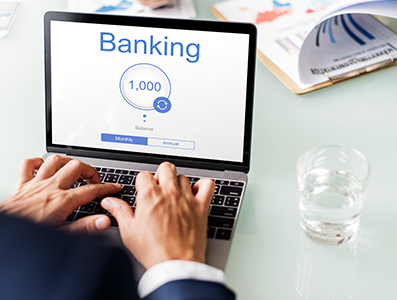 The digital era's technological breakthroughs have made many operations that previously required time and effort a simple chore. Financial transactions, for example, can be completed without visiting a bank. With the press of a button, you can transfer money, do a bank balance check, deposit money, and perform other similar actions. When you carry out many transactions on a daily basis, keeping track of your bank balance is vital. Monitoring balances alerts consumers of mistakes or frauds as soon as they occur.
There are various methods for determining a person's bank account balance. Email, push notifications, SMS, online banking, and UPI are some options. Let's take a closer look at some of the options most regularly employed for simply balancing one's checkbook.
Also Read: Why Choose NBFCs Over Banks For A Business Loan In India
Steps for Bank Balance check
SMS is a simple way to check your balance. If you have enabled SMS notifications while opening a new account, you will immediately get balance updates along with the amount credited or debited for each transaction. Other information, such as passwords or usernames, is not required. If you have not enabled SMS alerts, you can fill out a form at your bank to activate the SMS option.
You can also check your balance by sending an SMS to the bank's number from your registered mobile phone.
ATMs can also be used to check your bank balance. Simply go to any ATM and follow these steps:
Enter your card information.
Enter your PIN (a four-digit code)
Choose the Balance Inquiry option.
The balance will be displayed on the screen. It is recommended that you use your bank's ATM because using another ATM may incur a fee for their service.
Also Read: Know The difference between NEFT, RTGS, and IMPS
Make a phone call to your bank
If you are unsure about the methods outlined above, you can phone the bank to find your balance amount. However, unlike the other choices, where you can check your balance any time, this option is not available 24×7 if the bank's system is not automated. You will be requested to provide certain information, such as your bank account number, following which your balance amount will be communicated over the phone.
If you don't want to keep track of your account balance all the time, you may have the bank send you an alert anytime it falls below a certain threshold. If you make a large withdrawal or have a low balance, your bank will notify you immediately. You can edit these options per your requirement.
Customers can access their bank account balance at any moment using net banking. First, visit the bank's official website and provide the necessary information. You can also choose to utilize your bank's mobile app for this. For most apps, check for options such as "Account Access" or "Login." If you are a first-time user of the app or website, you must register by clicking "First-Time User."
You can register for net banking by following these steps :
Enter your account number, phone number, email address, debit card number, and CVV code. Submit the form. A one-time password (OTP) will be created.
After entering the OTP sent to your registered phone number, enter a new username and password to get started.
If everything else fails, call the bank and speak to a person at the bank. When you talk with a teller, you speak with a human rather than a machine.
Every bank provides a phone line to get in touch with a teller. Tellers, on the other hand, are getting increasingly difficult to find. Because most banks have shifted their operations online, they are less likely to hire tellers. Tellers can provide you with your bank balance after confirming your identity.
UPI and other banking applications are quickly becoming the most convenient and simple way to check your account balance. If you have several bank accounts and don't want to install many applications, you can simply use UPI.
Here are the steps to register yourself on a UPI app :
You are free to install any UPI app you choose.
Ensure that the mobile device running the UPI app has an active registered SIM and has enough balance to send an SMS.
When you first use the app, you will be prompted to enter the bank's name with which you have an account and the registered mobile number if your phone device supports dual SIM.
The app will send you an SMS to validate your phone number to complete the registration procedure.
After successful verification, the UPI will prompt you to create a UPI pin (not an ATM pin) and offer you a UPI ID.
You can enter any four digits you wish. The registration procedure has now been completed.
Simply open the UPI app and go to the 'check account balance' option. The balance will be shown instantly after you input your UPI pin. There is no charge for utilizing UPI to check your balance.
Also Read: Tips For Safe Net Banking For SMEs
Conclusion
When examining your bank balance, it is important to know the type of balance being checked. When utilizing the bank's app or another online method, bear in mind that the bank displays the available balance, which typically shows how much a person can withdraw or spend that day. In most cases, the available balance is less than or equal to the reported amount. It may seem that the bank has displayed an erroneous amount, but it could be that pending transactions are not displayed. It is likely that some bill payments or deposits may not have been cleared at the time of checking the balance.