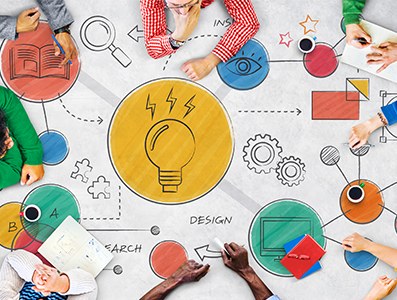 Starting a business requires a lot of commitment and confidence. One must be extremely clear about their business vision and mission before diving into the world of entrepreneurship.
The Indian government provides MSME loans, subsidies, and financing to extend support to small-scale businesses, among other benefits. India has become a favorable destination for such small-scale entrepreneurial ventures.
In terms of contributing to India's economy, small-scale industries play a critical role. These industries account for 33.4 percent of manufacturing output and over 30 percent of GDP in India. The small-scale industries have established themselves as the backbone of the Indian economy.
Small manufacturing enterprises have the most significant benefit of being able to be established from home or, at the most, a small, rented area. The capital outlay is minimal, and it does not necessitate the purchase of expensive equipment. There are a variety of the best small-scale industries for those interested in starting their businesses.
Also Read: Small Scale Industries In India (SSI)
Small Scale Business Ideas that You Can Start Easily
Here are some small-scale business ideas for you.
Candle & Wax Product Making
It can be a great concept to get a head start, as decorative candles have been in high demand recently. People burn candles for various reasons, including religious and aesthetic ones. Candles come in multiple sizes, designs, and colors, and there is no standard size. You can make most of these candles on a modest basis.
With a cheap investment of Rs. 20,000 to Rs. 30,000, you can launch a candle-making company at home. Wax, thread, molds, candleholders, thread, scent, and oil are essential for such a business.
The candle sector has a bright future because of its low capital investment, strong profit margins, and large candle sales. This small-scale industry also has a strong export market.
Also Read: 5 Best And Fast Small-Business Loans
Agarbatti/Incense Stick and Camphor Manufacturing
People purchase incense sticks and camphor regularly. So this business venture has a huge market base in India. The initial expenditure necessary to establish this type of company is Rs. 50,000 for ingredients and machinery to create agarbattis and camphor. The primary investment will be Rs. 25,000 to purchase bamboo sticks and oils to give them aroma.
It is easy to make since all one has to do now is cover the sticks with oil and let them rest for 24 hours. Simply pack and label them, and they are ready to sell in the market after they have dried.
Also Read: Need Money Fast? 4 Options For Small Business Owners
Pickles and Papad
Pickles are a popular food item in Indian households. Similarly, papads are a classic food item in high demand since rice constitutes an essential element of our diet, and fried foods go well with any type of rice.
Pickles and papad cooked at home are healthier; the concept is a viable small-scale business idea. Spices, flour, and oil are common ingredients needed to start this business. The basic requirements for starting this business are a decent recipe, gas burner, utensils, raw materials, and a sheet for drying the papads.
You can sell these homemade papads and pickles in your neighborhood market, or you can call any department shop and supply them with your whole output. You can start this venture with as little as Rs. 20,000 to Rs. 30,000.
Also Read: Need Money Fast? 4 Options For Small Business Owners
Homemade Chocolates
People prefer to have different flavored chocolates prepared at home over factory-produced chocolates, thus making homemade chocolates popular among small-scale business ideas.
Procuring raw materials and packaging would demand an expenditure of around Rs. 40,000 to Rs. 50,000. The advantage of this business is that you can do it from home and sustain it for a long time.
People give each other chocolates throughout the holiday season, stimulating more demand. You may also accept orders from a pastry shop or chocolate shops at hotels.
Also Read: Factors That Affect The Eligibility For Small Business Loans
Organic Soap Production
Soap is a daily hygiene product that everyone all over the world uses. People are switching to organic soaps due to the increasingly detrimental effects of artificial and chemical soap on human skin and the environment.
Organic soaps are manufactured using natural components and are friendly to the skin and the environment. Soap is one of the most profitable enterprises, with a global market worth more than $35 billion.
To start an organic soap company, oil and natural extracts for fragrance, lye, glycerin, and other basic ingredients are necessary. Aside from the basic materials, you require a minimal expenditure for this small-scale business to acquire machinery and establish a manufacturing facility.
Also Read: Reasons Indian Businesses Faces Rejection For Small Business Loans
Handloom and Handicraft
India's handicraft and handloom sector is one of the world's largest and oldest. People use handicrafts to decorate houses, hotels, business spaces, restaurants, and similar establishments. Because handloom and handicraft production are handcrafted, they have a high value.
Starting a handicraft or handloom business does not require much capital because entrepreneurs are simply part of the supply chain with access to larger marketplaces.
People are becoming more interested in buying handcrafted crafts and handlooms instead of machine-made items. As a result, both companies and artisans may benefit from efficient collaboration with small and distinct craftspeople groups.
Also Read: 5 Best And Fast Small-Business Loans
Spices
Spices have a critical role in Indian cuisine. As a result, there will always be a strong need for them. However, India's spice business is so large that it also caters to foreign demands.
India exported spices worth $3.65 billion from India in 2020. The sector is highly profitable, with annual revenue of over 40,000 crores.
Spice production and packaging are among the most successful enterprises since large-scale producers cannot provide a local flavor because their spices have a generic taste.
Final Words
Producing cottage cheese, disposal utensils, edible oils, mineral water bottles, manufacturing medical requirements such as gloves, sanitary napkins, sanitizers, and baking cakes are examples of small-scale enterprises with large profit margins in the commercial sector.
As India's local marketplaces become more global and the economy grows, you may benefit from these developments by investing in productive enterprises and developing intelligent business strategies.
As a result, you may get into these highly successful economic areas and contribute to nation-building through a calibrated strategy and effective business planning. You can now easily tap on the right commercial markets by utilizing the aid offered by the Indian Government to MSMEs for advocating small-scale industries in India.