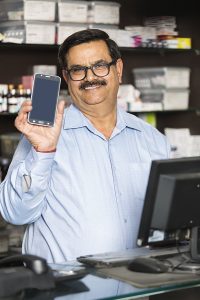 The retail industry is transforming. What with the onslaught of online giants like Amazon, Flipkart and several others, transformation in the shopping culture of customers, scarcity of labour — brick and mortar need to evolve.
Infact, with retail giant Walmart buying Flipkart and Big Bazaar going big on online, the line between online and retail business is getting thin. Even the online players like Lenskart and Fab Furnish, have opened their retail stores
With these new dynamics, it's important for retailers to be future-ready.
"It's not just about surviving, but it's all about thriving."
With a few smart strategies and careful planning, you can emerge stronger than ever before.
Here are some helpful tips on how to overcome hurdles and emerge triumphantly. Without any further delay, let's dive in.
1. Make use of Local Search to Drive Visitors to your Store
In today's digital era, having a well-crafted and optimized online presence for your business is no longer optional. It's mandatory. There's no other way around it.
A vast majority of customers start their shopping via an online search. And, your business needs to be at the forefront, especially for all local searches. Search marketing doesn't end with building a website. Instead, you have to focus on creating a site that contains all relevant keywords, localized information and helps you rank high on Google and other search engines . Further,you need to work towards your online presence on maps and local directories like Just Dial.
In the era of instant gratification, you can out beat the online competition by providing same-day delivery of products to your local customers, compared to the typical 2–3 day sale-cycles of online retailers.
Also Read: Top 3 Trends That Are Changing The Face Of The Retail Industry In India
2. Provide best-in-store Customer Experiences
Today's consumers aren't just looking for the best prices — they are looking for more than that. They want a rewarding shopping experience.
Very often, retailers make the wrong assumption that if they stock their shelves with the right product and hire the required staff, they can hit their sales targets. Wrong! Retailers must focus their attention on beefing up the in-store customer experience.
Start by making your staff knowledgeable about the products you sell. Your staff must be able to answer all the questions asked by your customers while making the right suggestions. This is where you can out beat the online competition.
Provide customers with a friendly and personalised shopping experience. Think up of strategies to complement their experience. Fun in-store games that win small prizes or coupons, complementary accessories, or a free welcome drink are some ways to exceed customer expectations.
Remember to wow each customer who walks into your store with a great experience — both regarding service and products.
3. Leverage Technology to your Advantage
Retail is all about providing customers with a highly personalized experience. This is why a large number of shoppers still visit brick and mortar stores. They want to touch, feel and experience a product before making the final decision.
And, brick and mortar store owners have to adapt and embrace technology to provide customers with this. Invest in IT infrastructure — from inventory management, accounting, to billing. This helps to smooth workflows and simplify day-to-day operations.
Invest in IoT and big data to know more about your customers. This helps you to provide them with more than a shopping experience. Aim to transform your store into a fulfillment centre.
Apply Loans For Retail Business
It's Time to Reinvent your Brick and Mortar Store
The three strategies listed above are crucial in making your retail business successful in this era of online shopping. Yes, we agree that all three strategies require some capital investment. If you're struggling to meet operational expenses and cannot afford to spend money on these strategies, worry not!
Check out online lenders like Indifi, who provide specialized business loans to retailers to expand and grow their business. Avail a Business loan designed for retail sector by Indifi and take your physical store to the next level, and boost your bottom line.