The pharma sector of India is rapidly growing. Many schemes of the government, including MSME and others, have helped many small businessmen set up their businesses. If you are interested in becoming a drug distributor, continue reading! This article covers the key points you should know before starting a wholesale medicine business.
Getting a Medicine Wholesale Drug Licence
Obtaining a wholesale drug licence to start a medicine wholesale or drug distributor business in India is a necessity for anyone looking to start a pharmaceutical business in the country. The government has strict regulations on how drugs are manufactured, stored, displayed, and sold.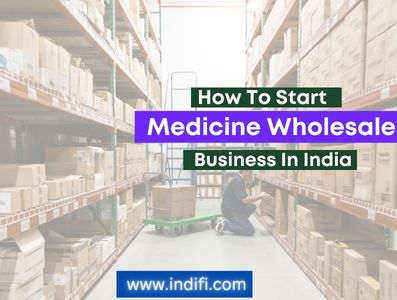 To get a drug licence, you should have a valid Goods and Services Tax (GST) identification number. This is mandatory for anyone conducting business online. You must also provide an affidavit stating that he is a qualified pharmacist and has at least one year of experience.
The application form is available online. You can also apply in person at your state's drug-control office. Fill out your application and make sure it contains a cover letter, an affidavit of competence, an experience certificate, and all other documents required. These requirements vary from state to state.
Once you submit the application form along with the documents, the CLA will inspect your premises. If they are satisfied with your business setup, they will issue you a licence.
Applying for FSSAI Registration
Getting an FSSAI registration is essential for starting a medicine wholesale or drug distributor business in India. Whether it's your own business or you're an investor, you need to obtain a licence. It can also help you develop your brand name and grow your customer base.
There are three types of FSSAI licences based on the nature of your business. The fee depends on the type of licence you choose.
Basic FSSAI registration is free for small food businesses. A few documents are needed, including proof of your business location and a PAN card. You also need to provide a list of the food products you're selling.
The central FSSAI licence is required by FBOs with a turnover of more than 20 crore rupees, as well as food businesses that export or import food products. For food businesses with a turnover of Rs 12 lakh or less, you may apply for the essential FSSAI registration.
In addition to the licence, FSSAI requires you to have a business constitution certificate, as well as utility bills and utility receipts. It is a good idea to get help from a legal service provider to renew your FSSAI registration. This will ensure that you are complying with FSSAI regulations and keeping your business compliant.
Hiring the Staff for Your Business
Once you have procured the necessary licences and permits, you can hire staff for your business. Some of the key positions to fill include:
Pharmacist: 1-2
Assistant pharmacist: 2-3
Sales Executive: 2-3
Storekeeper: 1
Helper: 1-2
The salaries will depend on the candidates' qualifications and experience. You can use online job portals to find the right staff for your business.
To Note
Having a pharma distribution business is an exciting proposition. The pharma industry is one of the fastest-growing industries in the world. It is expected to grow at a rate of 15% by 2022.
If you are planning to start a pharma distribution business, you must take into account a few things.
First, you need a licence
Second, you must hire staff
Third, you must research the market
Finally, you need to have the necessary infrastructure and fixtures to run your business.
The drug department has a set of rules and regulations for launching your distribution business. If you fail to comply with these rules, your registration will be denied. You will also need to pay Goods and Services Tax (GST) on your total turnover.
You may also want to take advantage of MSME registration. This is an MSME loan that is available through a financial institution in India. To apply for this loan, you will need to make a significant cash investment.
SWOT Analysis of a Pharmaceutical Distribution Company
Using a SWOT analysis of a wholesale medicine distributor company can help you determine the strengths and weaknesses of the industry. This is important because it enables you to assess where improvements can be made. Developing a business strategy that will give your company long-term competitive advantages is essential.
In addition to identifying the strengths and weaknesses of the medicine wholesale business, a SWOT analysis will also show you where preemptive measures can be taken to improve the industry. This is because changes in one factor often lead to changes in other factors.
For example, a SWOT analysis of a pharmaceutical distributor could identify the following weaknesses:
Outdated medical equipment
Low staff morale
High-risk business models
In addition to identifying these weaknesses, a SWOT analysis of a company can also help you evaluate the QbD rollout strategy and identify opportunities. For example, if your company has a strong brand portfolio, you can enter new product categories and expand into new markets.
Conclusion
You must follow these key steps to start a medicine wholesale business in India. The above steps are a general guide on how to start a pharmacy wholesale business. Don't hesitate to contact your state's relevant authority for detailed information on the required licences.