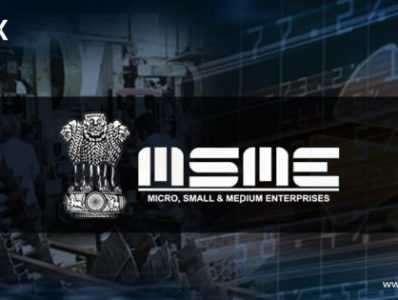 India is growing as an emerging market in the world is partly fuelled by entrepreneurs. The burgeoning growth of micro, small and medium enterprises (MSME) generates not only employment but also output and exports and in fact, is a major contribution towards the country's GDP. The MSME sector contributes 30% to the GDP and during the 2006-2015 year, block registered an annual growth rate of 4.35%.
The MSME sector is a vital part of the economic mechanism of the country, however, the sector also suffers from various drawbacks that prevent it from flourishing further. The stunted access to finance and credit, low scale technology, marketing, etc. are some of the challenges that the sector faces. The government envisages an increase in the sector and has rolled out various credit initiatives.
New MSME Definition

The distinction between the manufacturing and services enterprises has been removed by making the investment amount and annual turnover similar for enterprises engaged in both the sectors.
Since the Covid-19, or the Coronavirus pandemic, the government of India and finance minister Nirmala Sitharaman has announced a slew of measures for MSMEs as part of the economic package
Due to the affect of the pandemic, the government also changed the definition of MSMEs, linking it to turnover limits so that such businesses can grow without losing benefits.
The ₹3 lakh crore worth of loans can be availed by existing borrowers with up to ₹25 crore outstanding, and ₹100 crore turnover. The fresh loan amount can be up to 20% of a company's outstanding, it said. "Only 5-7% MSMEs will benefit out of such criteria," said Bhardwaj of FISME.
MSME – Merged Criteria: Investment and Annual Turnover
Sector/Enterprise Type
Micro-Enterprise
Small Enterprise
Medium Enterprise
Manufacturing & Services Sector, Both
Investment is less than Rs. 1 crore.
Turnover less than Rs. 5 crore
Investment is less than Rs. 10 crore.
Turnover up to Rs. 50 crore
Investment is less than Rs. 20 crore.
Turnover up to Rs. 100 crore
Here are some of the government business loan schemes for MSMEs in India.
Mudra or Micro Units Development and Refinance Agency
This scheme launched in 2015 and aims at funding the non-corporate and non-farming micro business units. The government loan for business in India are categorized under three heads with varying capital ceilings fixed at, ₹50,000 under Shishu loans; ₹5 lakh under Kishore loans; and ₹10 lakh under Tarun loans.
The funding under the MUDRA scheme is divided into, (i) Micro Credit Scheme for a limit of ₹1 lakh covered through micro-finance institutions; and (ii) Refinance Scheme for a limit of ₹10 lakh covered through commercial, regional rural and small finance banks, and non-banking financial companies.
Credit Linked Capital Subsidy and Technology Up-gradation Scheme (CLCS-TUS)
These schemes intend to improve the competition in the MSME sector through various interventions in the areas focussing on an upgrade of technology, superior product quality, waste reduction, design intervention, enable cloud computing, facilitate intellectual property and incubate ideas. In short, this credit linked subsidy scheme will bring down the cost of production thereby maintaining price competition in domestic and international markets.
The CLCS-TUS offers 15% capital subsidy on credit that has been availed for aforementioned upgrades to a maximum limit of ₹15 lakh. The implementation agencies include SIDBI and NABARD.
Also Read: Business Loans For MSMEs — Overview, Features & Benefit, Eligibility, Interest Rates And More
Credit Guarantee Fund Scheme for Micro and Small Enterprises
The CGMSE scheme was launched in 2000. This scheme provides financial support to micro and small industries in the form of credit that is free of any collateral. Now, this is eligible only for working capital loan of ₹10 lakh in amount. In case of credit facilities that amount to more than ₹10 lakhs and up to ₹1 crore, the loan requires primary security in the form of mortgage of non-movable assets. The governments' co-ordinated enterprises have increased the use and popularity of this scheme for entrepreneurs who have viable projects yet do not have any collateral or security to provide for credit Financing.
PSB/MSME Loans in 59 Minutes
This scheme was launched in September 2018 towards easing credit access to MSMEs. Through digital processing, the borrower receives an in-principle approval of a business loan within 59 minutes which can be either working capital loan or term loan. There are a number of partner banks associated and the borrower reserves the flexibility of choosing a lender bank. The eligibility sanction or in-principle approval letter can be attained with or without collateral provision to the tune of ₹1 lakh to ₹5 lakh at present at a rate of 8.5% interest.
The procedure requires GST Identification number, Income Tax returns in XML format, bank statements and ownership details of entrepreneurs for the approval within a stipulated time. The eligibility is also checked through CGTMSE as the platform for this loan is integrated with it.
Also Read: A Quick Guide To SIDBI For MSMEs
National Small Industries Corporation Subsidy
This scheme offers financial benefits in various areas related to the growth and development of units in the MSME sector.
The NSIC subsidy schemes are listed as,
NSIC Subsidy for Raw Material Assistance
NSIC Subsidy for Marketing Assistance
NSIC Subsidy for Performance & Credit Rating
NSIC Subsidy for Bill Discounting Scheme
These schemes provide focused and value-added improvement benefits to business units in developing operations as well as in availing subsidy in various areas.
The current export contribution from MSME stands at 50% and the employment numbers at 11.10 crore. With the help of these schemes, the MSME sector can greatly benefit and increase its statistics. Apart from these, many other credit and finance schemes by the government are aimed at a growing MSME sector. The eligibility criteria and application procedure are quite streamlined and although otherwise promised they do take up valuable time in reimbursement. If you are looking for customized MSME loan that are easily and quickly facilitated without collaterals, then Indifi is the answer.