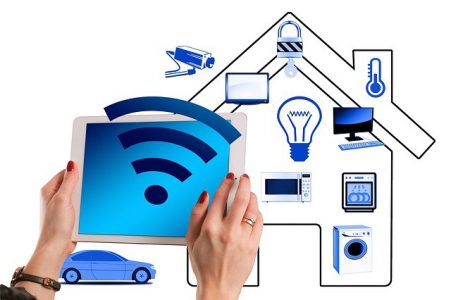 The online shopping industry in India is undergoing a major transformation and India is one of the biggest emerging marketplaces in the world.
From big players like Amazon, Alibaba, Walmart to hundreds of start-ups, everyone wants to take advantage of the "Big Indian Online Shopping" wave.
Today, anything under the sun can be bought online. The convenience of shopping while lying on one's couch, the endless array of designs and innovative products and incredible discounts are all hooking in the Indian consumer like never before.
Coming to the big question, What to sell online in 2018 and beyond?
The focus should be on finding a niche product or service. Once you have figured that out, you can be sure that customers will automatically follow. Here are a few ideas to help you get started.
List Of Profitable Business Ideas
1. Smart Home Devices
The houses of the future would be something like this — all devices including alarm clocks, audio systems, air-conditioners, water heaters, fridge, lights, door lock, etc will all be connected to the internet. These devices would be able to communicate with one another and provide you with a seamless, integrated interface to operate them with just a few taps.
This isn't fiction. But, the near future. Home automation and smart devices are big in 2018 and this is evident with the popularity of devices like Echo, Google Home and more.
2. Fitness Programs and Sports Nutrition
Today, almost everyone is bitten by the fitness bug. Gone are the days, when gyms were frequented only by young males who were looking to build their muscles and win dates. Today, everyone from the baby boomers to millennials are focussing on a fit lifestyle.
The market is enormous for anything fitness related. Specialized workout programs, sports nutrition drinks, workout apparel suited for the Indian market, health drinks, customized meal programs are some of the best-selling products this year.
Also Read: 5 Clever Ways To Boost The Sales Of Your eCommerce Store
3. Fresh Meal Delivery and Online Groceries
In today's hectic urban life, no one has the time to cook meals from scratch or visit the local supermarket to purchase groceries. You can sell pre-cooked fresh meals that can be delivered at homes, offices, schools and more. Additionally, by focussing on the nutritive value of your meals you can win customers who are looking for home cooked meals that are healthy and fresh.
Alternatively, you can sell gourmet meal kits. These include everything for a meal — from pre-measured ingredients to the recipe card. All the customer has to do is follow the instruction and prepare the meal at his/her kitchen. Online groceries are also another huge product this year.
4. Subscription Boxes
These are one of the biggest hits in the Indian online marketplace this year. The concept is this — the customer pays for a subscription — 3 months, 6 months or 12 months. Each month a curated box is sent to the customer with a selection of products.
There are plenty of subscription boxes for everything from — books, cosmetics, fashion, kid's clothing, learning activities for kids, snacks and much more.
Also Read: Top 5 Innovative & Profitable eCommerce Business Ideas
5. Niche Fashion
It's true that fashion retail is one of the most crowded industries in India. There are hundreds of corporate players in this space. Yet, a handful of small startups are creating their own set of loyal fans. The reason — they offer niche fashion.
Niche fashion is defined as catering to "hard-to-fit" or "hard-to-find" needs. Minimal fashion, only black clothing, sustainable fashion, casual workwear, indie-fusion are some of the popular categories in niche fashion.
Be Unique to Carve a Space for your Business
Though the online marketplace is highly cluttered, you can win big if you find the right creative product or service, that lets you stand out from the rest. And once you have found the right idea, the next step is to raise capital.
Apply Loan For eCommerce Business
This is now easy with digital lenders like Indifi, who offer business loans for small businesses and start-ups with minimal documentation and fuss.
Build your e-commerce store and make your entrepreneurial dreams come true!