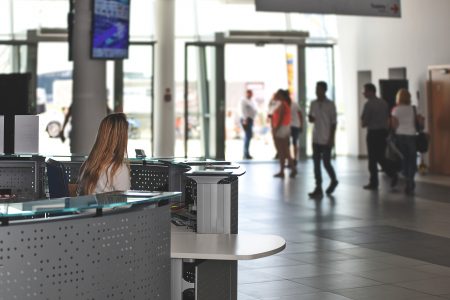 Business travelers are a crucial and reliable customer segment for hoteliers. They are frequently traveling, and off-seasons don't apply to them, making them an incredibly lucrative niche customer segment.
With changing technology, work hours and working styles, business travelers are looking for hotel rooms that offer convenience and efficiency. Here, in this post, we share with you some innovative ideas to attract business travelers to your property and boost your room occupancy rates, as well as overall revenues.
5 Ways To Attract Business Travelers To Your Hotel & Boost Revenues
Offer Airport Pickup And Drop Services
Business travelers have tight-packed schedules. Generally, they are in the city only for a couple of days to attend meetings or meet with clients. Unlike leisure travelers, business travelers don't have the time to explore the city using public transportation, rental cars, etc. Offering airport pick-up and drop-off is an incredibly convenient service that they will value.
Additionally, you can also provide them with transport to and from meetings for an additional cost. If your hotel is centrally located, then make sure that you have a guide offering information on nearby restaurants and attractions in your destination.
Help Business Travellers Stay Connected
In-room wifi is one amenity that is a must to attract business travelers. According to a study, business travelers on average spend around 16 hours connected to the internet and offering them free; fast wifi connectivity is a great bonus.
Additionally, make sure that your hotel rooms have plenty of international plug outlets to help them charge all their devices. Offering a work desk with an ergonomic chair also helps them choose your hotel room, over your competitors. Make sure that you provide a few workstations in common areas like the lobby, so they can easily print out boarding passes, meeting schedules and more.
Also Read: 5 Ways To Increase Your Hotel Revenue
Improve Fitness Centres
Most business travelers have hectic schedules and are often jet-lagged. The best way for them to overcome jetlag is with a soothing treatment at your in-house spa. Furthermore, most business travelers don't give up on their fitness routines while traveling.
So, offering a modern, well-equipped gym is a great way to attract business travelers. If you don't have the capital to expand your in-house amenities, you can avail unsecured hotel loans for hotels in India from Indifi, and upgrade your amenities and infrastructure.
Similarly, make sure that your in-house restaurants serve healthy eats like smoothies, salads, protein bowls, etc. to cater to the dietary requirements of fitness-conscious business travelers. Offering an ironing board and iron is incredibly useful for business travelers who want to look sharp before they rush off for meetings.
Offer Flexible Loyalty Programs Catered To Corporate Travelers
Very often, room bookings for business travelers are made by their respective companies, making them lose out on reward points and other offers. So, it makes sense to create a flexible loyalty program, where business travelers can add their membership IDs to the booking, even if their company makes it.
This way, business travelers can collect points and use it to redeem free nights, earn upgrades, and other luxury amenities like access to executive lounges, free breakfasts, discounts on spa treatments and more.
Offering multi-level reward programs is a great incentive to get business travelers as repeat customers, as they work on earning elite status.
Also Read: 5 Smart Strategies To Increase Your Hotel Bookings & Boost Revenue
Send them Customized Emails – Pre-arrival and Post check-out
You need to start attracting business travelers right from when they book a room with you or are searching for accommodation in your location. At Pre-booking offer them exclusive offers and post-booking, you can send them email notifications regarding the check-in process. Keyless digital entry is a valuable perk, as it helps business travelers avoid long check-in lines.
Once a traveler completes his/her stay at your hotel, make sure to send them a customized thank-you note, thanking them for their business and also request them to share their feedback, to help you serve them better in the future. On completion of feedback, offer something small like a free drink voucher or meal, which they can redeem the next time they visit your hotel. This gives them an added incentive to return.
Understand Requirements Of Business Travelers To Serve Them Better
The way a business traveler books, spends and stays at your hotel is different from leisure travelers. So, make sure that you know your target market and be aware of their requirements, to serve them better, getting them to become repeat customers.