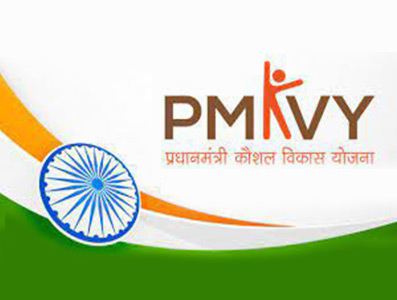 Empowering the youth of the country with the right means is crucial as the future of our country largely depends on them. Although customer-friendly business loans enable young entrepreneurs to achieve their dreams in their way, there remains a gap between the skill development taught in schools and expected in the industry. To bridge this gap, the government of India launched Pradhan Mantri Kaushal Vikas Yojana (PMKVY)  under the Ministry of Skill Development And Entrepreneurship (MSDE). 
Also Read: What Is The PM Kusum Scheme? How Does It Benefit The Farmers?
What Is the Pradhan Mantri Kaushal Vikas Yojana? 
In order to reduce the number of unemployment among the youth, the Ministry of Skill Development And Entrepreneurship, executed by the National Skill Development Execution (NSDE), launched the PMKVY in 2015. It specifically aimed to provide industry level skill training and know-how to school drop-outs and unemployed people that will help them secure a better living through upskilling. This will assist professionals in building successful businesses and excelling in their business with ease. Individuals will also be assessed and certified based on their prior learning experience and skills under the recognition of prior learning (RPL).
Till now, 13.2 million candidates have benefited from the scheme. Moreover, the scheme aims to train 400+ million youth by 2022. How will the scheme help you start your own business, you ask? Refer to the following points to know why you should enrol for it.
How PMKVY Helps You Start Your Own Business?
If you are looking to learn the skills in a quicker way, look no further than PMKVY. Enrol on the scheme and learn to apply the skills in the real world. All PMKVY training centres offer sessions on entrepreneurship, employability, financial literacy, and digital literacy to make candidates start their entrepreneurial journey with confidence, no matter what business they are engaged in. Any person, be it a first-time learner or an employed person who is looking to upskill his or her business, can choose from the various courses depending on current job or any previous qualification.
The training sessions last for about 150-200 hrs and fall under the National Skills Qualification Framework.  The Indian government pays the entire program fee, and placement assistance is also provided to the candidates.   
PMKVY aims to provide training in special projects that are not specified under National Occupational Standards (NOS)/Qualification Packs (QPs). Special projects provide training in specialised areas or premises of the government to encourage skilled training in the weaker areas of society. You gain all the practical experience under this component of PMKVY which you need to run your venture successfully.
The scheme aids in creative entrepreneurship, projects associated with international placements along with offering local livelihood, placement opportunities. 
Nothing beats the experience you gain by actually working in the field. Experience through these 'rozgar melas' helps you with that. Conducted by training partners, the melas are held every six months to make you look for better work opportunities in your desired fields. 
Along with work experience, you also get crucial mentorship during this time span.
PMKVY aims to link aptitude, skill, and knowledge with the industry needs and encourages skilled youth for placement opportunities. 
Inspection agencies conduct certain validations, surprise visits, etc., to maintain the quality standards by self-auditing and following up through the Skills Development Management System.   
Recognition of Prior Learning 
It is an assessment process used to validate the existing skills possessed by the candidate. Through RPL, you will get exposure to concepts like digital literacy.
Also Read: Top Facts About PMRY Loan
Benefits of PMKVY 
The Pradhan Mantri Kaushal Vikas Yojana scheme comes with several advantages like: 
The certificate will help you apply for higher education or get a job.

PMKVY provides relevant skill-based training to the youth of India. 

High-level universities and teaching organisations fall under the scheme.

Candidates are also felicitated with scholarships, loans for higher education under the PMKVY.
To sum it up
PMKVY will help you gain the relevant skill-set required in today's fast-changing world. Students often find themselves highly unprepared for the market demands when they leave their school or college. Thanks to schemes like PMKVY, they not only make the young entrepreneurs confident but also help them brush up their skills and be successful in their lives. 
Once you have acquired all the necessary skills, you can even set up your venture. You would then need funds to help you kickstart your venture, and getting business loans would help you turn your dreams into reality. Good Luck!
Also Read: Everything You Wanted To know About PMEGP Loan
FAQs regarding PMKVY 
Who provides the training under PMKVY?
With over 2300 training centres all over the country, NSDC has partnered with over 187 training partners who are affiliated with centre and state training providers. 
What is meant by SSDM?
State skill development missions (SSDM) are conducting skill interventions at the state level for targeted groups initiated by the centre and state government. 
What are the eligibility criteria for PMKVY?
Following individuals are eligible to enrol for PMKVY: 
Freshers

School drop-outs 

The candidate must go through the KYC process by displaying his Voter ID, Aadhar Card, or mobile number for applying for the same.