Wondering how to look for a GST No. Online with ease with just the name or PAN No.? If so, give this article a read.
Unless you're living under a rock, you know that starting or running a business in today's world is not everyone's cup of tea. With so much compliance to obey and follow, India strives to eliminate black money dealers. Thanks to the Goods and Services Tax initiative, we have achieved success in this regard.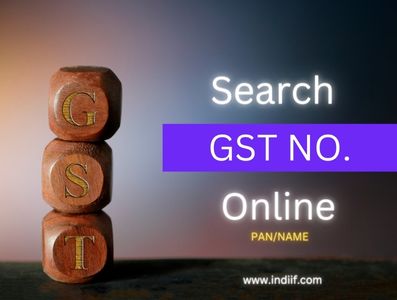 For the record, GST was implemented on 1st July 2017 as a notion of bringing the entire nation under the roof of one tax. This led to the idea of 'One Nation, One Tax'. Though the implementation was a tiring process, the results today are apparent. 
I hope you know that checking a GST number online if you have a business's name or PAN number is child's play. If not, I will walk you through the GST Number Check process. Keep scrolling to learn how…
What is a GST No.?
For starters, GSTIN is a 15-digit alphanumeric identity number assigned to every taxpayer registered under the  GST regime. It stands for the validity and authenticity of your business. GST has replaced various taxes like excise duty, service tax, and sales tax. Now, every company registered under the GST regime must collect tax from its customers and pay the government. 
This PAN-based code helps maintain unity among taxpayers and keeps an eye on whether enterprises comply with the government's legislation. You can always go for a quick GST number search online for your or any business, as it is open to the public.
Furthermore, there are different categories of GST, namely, CGST, SGST, IGST, and UTGST. Central GST is a tax on the intrastate supply of goods and services governed by the Central government. Then, there's the State GST. It is a tax levied by the State government. Lastly, Integrated GST and Union Territory GST categories are for the inter-state supply of goods and services.   
Why Should You Check The Validity Of A GSTIN?
The presence of a GSTIN for any business shows that it is rightfully registered as a taxpayer with the government. It signifies that a business entity has a legal existence. If you plan to sign a deal and enter into a contract with a business, it is ethical to check for the GSTIN.
It will ensure that you are going to work with a legit business that is registered under the government's GST regime.
Perks of Performing GSTIN Search  
While you can search for a GST number using the name or the PAN of the business, it has some benefits-
You can ensure the legitimate existence of any business before involving in any transactions with it.
You can check all the info that the business states as valid.
There is no scope for being misled by fake GST numbers.
If you are a dealer, you must be sure of your GSTIN. This helps avoid errors while filling in your GST number on your GST returns.
How to Do Gst Number Search By Name Or Pan No.?
In case you're wondering, the GST search tool is easier than you can imagine. All you need to know is the name or PAN of the registered company. The device will help you find the GSTIN of the business, provided it is registered under the GST regime.
Every state has to make some information available to the Central government. One such detail is the names of companies registered in the state and their GST numbers. The list is, therefore, open, and you can perform a GST number check by entering the name or PAN.
Head on to the GSTIN search portal and enter the name or PAN of the company in the space provided. Once done, click on 'Search'. Remember that you must enter the correct spelling of the company's name. If searching using PAN, ensure it is accurate and doesn't skip any number. You should also enter the state's name if the business is registered with many state governments.
Once you enter the credentials, you will be redirected to a page that will show the records of all such companies that match your search. You will also get details like the principal place of the business, state and center jurisdiction, registration date, and similar info. 
The Bottom Line
In a world of fake identities, GST verification is a boon. With a process as simple as I've discussed above, you can quickly check any GSTIN to ensure that the business exists in the eyes of the government. So whenever you feel doubtful about the legal existence of a company under the GST regime, go for a quick GSTIN search. You can also download GST certificate online by PAN and ARN no.
---