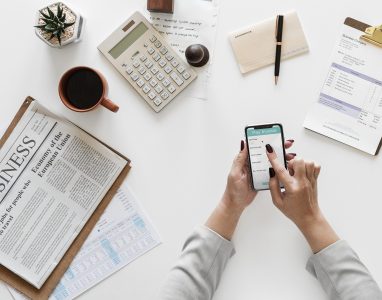 Just a few years back, it was impossible to get a loan sanctioned in India just by filling and submitting a loan application online. Cut to Jan 2018, more than 30+ digital lending firms now operate in the fintech space, and the entire process happens completely online.
This is indeed a boon for startups, small business owners, and entrepreneurs who found it highly difficult to avail a loan in the traditional banking sector.
Here are the major differences between these alternative digital lenders and conventional banks.
1. The Application Process
Let's start at the beginning. If you were to apply for a loan at a traditional bank, you would have to visit the branch in person, fill up lengthy application forms and submit tons of supporting documents. Now, a few banks have the option of filling in the application form online. Even then, you would have to visit the bank at least a couple of times, before your loan gets processed.
Now, consider digital lenders. The entire process is automated and entirely online. No need to take time off work to wait in queues. The application, eligibility, verification, and sanction are completed online, saving you time and effort.
2. Borrower Eligibility
When you approach traditional lenders, your eligibility is determined by a whole array of diverse factors like your current income, employment history, housing, assets, and above all credit score. This makes it highly difficult for young professionals and new entrepreneurs to be qualified as eligible and get approved for the loan.
While Digital lenders also consider your income and credit scores, they also consider other factors like social media authorization, education levels, professional background, and potential future earnings to determine your creditworthiness.
3. Paperwork
Ask anyone who has approached a bank for a loan, the most hated aspect of the process; the unanimous response would be "Dealing with the mountains of paperwork." You have to submit tons of documents, like income tax returns, property ownership deeds, and other personal information before you can get your loan approved.
Digital lenders cut down the paperwork significantly. You just have to provide scanned copies of a few critical documents, like proof of identity, proof of address and that's it. You're done.
Also Read: Become A Digital Business-The Way Forward For Retailers In 2019 & Beyond
4. Processing and Disbursal Time
This is another major differentiating factor between traditional lenders and digital lenders. Banks take weeks and sometimes even months, to process your application and disburse the required funds.
Digital lenders on the other hand process your application within hours and the funds reach your bank account within a few working days, mostly just 2–4 days. This is highly ideal, especially when you want funds for an emergency.
5. Overall Costs
Banks are notorious for charging hidden costs in the form of processing charges, prepayment penalties and so on. Digital lenders have cut down on these other charges significantly. Most online lending platforms don't charge you for prepayment. This makes it highly convenient and hassle-free to repay your loan before the tenure.
Similarly, by matching lender profile with borrower profile, digital lending platforms can offer highly competitive interest rates when compared to traditional lenders.
Apply For Business Loan Online
The Bottom Line
Online lending is indeed a boon for new borrowers who don't make the cut at traditional lenders. Instead of spending time in queues, handling tons of headache-inducing paperwork, look around and simplify your loan processing at online lending platforms.