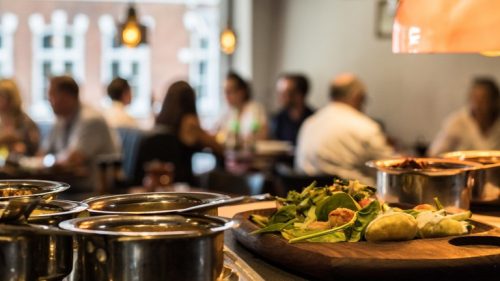 Running a successful dine-in restaurant requires a lot of hard work and discipline. This is because it is not a one-time thing, you constantly need to work towards maintaining the hygiene, quality, and ambience of the restaurant. If you want to attract new customers and retain your loyal customers, here are a few best practices you need to follow:
Best Practice for Dine-in Restaurant
1. Set The Standard High

Irrespective of how long you have been in the business, you need to consistently score A when it comes to restaurant standards. The food should be served in its best quality.. You need to have a very clean and safe environment for your guests as well as team members. Offer exceptional service and extensive food and beverage choices. Ensure that you follow best practices at the restaurant and achieve high customer satisfaction.
Also Read: Tips For Becoming A Good South Indian Restaurant
2. Have The Right Culture
Culture is the foundation of your business. You need to ensure that the entire team is aware of the best practices and they follow them most sincerely. You need to keep the restaurant clean and ready at all times. Have a cash control system where the cash and inventory are always taken care of. Follow the right cash handling processes and ensure that the management team has a checklist that is updated regularly. In the restaurant business, details matter.

3.   Build A Strong Team
A business cannot achieve success without the right team. You need to compete for talent first and then for customers. Hire tough but manage easy. Hiring is the most important decision and people will pay you for the services you offer. When you have the right team, you can ensure that the services are excellent. You need to have a team that is committed to your success. If you need additional funds to hire experienced personnel, consider applying for a business loan.
Also Read: Best Tax Saving Practice For Restaurants
4.   Serve Better
Good service means not having to ask for anything and you need to remember that habitual consistency is the key. In a restaurant business, the service makes a whole lot of difference. You need to ensure that the service is excellent and there is no compromise on the same. Customers do not enjoy shabby services in a dine-in restaurant.

5.  Watch Your Waste
Try to cut costs but not corners. Always try to cut down on the waste and you will manage to save money. If you do not measure it, you will not be able to manage it. As a restaurant owner, you need to focus on reducing waste in every possible manner.
Also Read: 5 Tips For Running A Good Chinese Restaurant
6.  Focus On Marketing
Everything is about marketing. Whether it is through social media or an ad in the newspaper, you need to look around and see what is nearby, then market accordingly. Your customers are on their mobile and it is important to build a strong online presence. Re-discover different ways and channels of marketing so as to reach out to a wider audience. Never underestimate the power of a good marketing strategy. Set aside a marketing budget and list out all the channels which will help drive customers to your restaurant.
Also Read: Consider 5 Easy Tips To Maintain Your Restaurant Business
7.  Lead smart
You need to know the way and then walk the way. Time is more valuable than money and when a customer spends their precious time at your restaurant, you need to ensure that you value their time. Focus on effectiveness and always pay attention to the details. Service and sales are two important aspects of your business and you need to focus on maintaining excellence at all times.

Always have an action plan and be prepared for contingencies. Remember to make effective changes to your restaurant from time and time like changing the ambience, offering live music, and making additions to the menu.
Also Read: A Complete Guide Of Top 7 Practices For Restaurant Marketing
Your restaurant business has its own specific requirements. Be it marketing, hiring more staff, purchasing new equipment, setting up the restaurant, or just managing the daily expenses, without a steady flow of funds your business can severely suffer amid the growing competition. With the flexibility to choose your loan tenure and repayment schedule, your search for the best loan for the restaurant business in India is sure to end at Indifi.